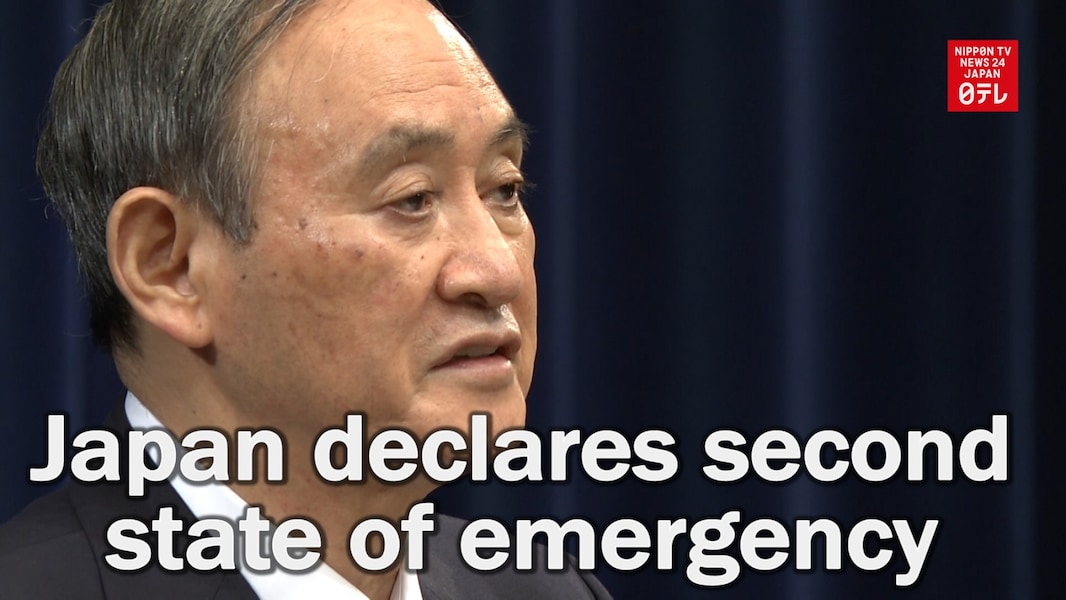 Japan Declares Second State of Emergency
Japan declares a state of emergency over the coronavirus for the second time, with the pronouncement covering Tokyo and three neighboring prefectures.
Japan declared a state of emergency over the coronavirus for the second time on January 7th.
The pronouncement covers Tokyo, Saitama, Chiba and Kanagawa prefectures. It will take effect at midnight and continue until February 7th. The focus of the declaration will be on restaurants and bars. They will be asked to end business hours by 8 PM, two hours shorter than the previous request. Businesses that cooperate will be eligible to receive financial compensation of up to 1.8 million yen a month. Governors of the four prefectures will be given the authority to publicize the name of stores that refuse to obey. Establishments such as theaters, museums and gyms will be asked to limit users to 50 percent of their respective capacities, with no more than 5,000 people allowed in one venue. People in the greater Tokyo area will be asked to avoid making non-essential outings after 8 PM. Schools will remain open, but the government encourages them to utilize online classes. On April 7 last year, then Prime Minister Abe Shinzo declared the first state of emergency to seven prefectures. It was expanded nationwide on April 16th, and was in force until May 25th. Japan confirmed more than 7,400 new cases of infections as of the evening of January 7. Tokyo accounted for nearly a third, with 2,447 cases, shattering previous highs.
*This article was provided by one of our partners, and its publication date refers to the day it was released on WOW! JAPAN. Please refer to the applicable partner site to confirm the date of original publication.
Follow WOW! JAPAN

Can't find it in a guidebook? Looking through this app will definitely make you want to go to Japan.
Sightseeing information to make you say "Wow!", updated every day!