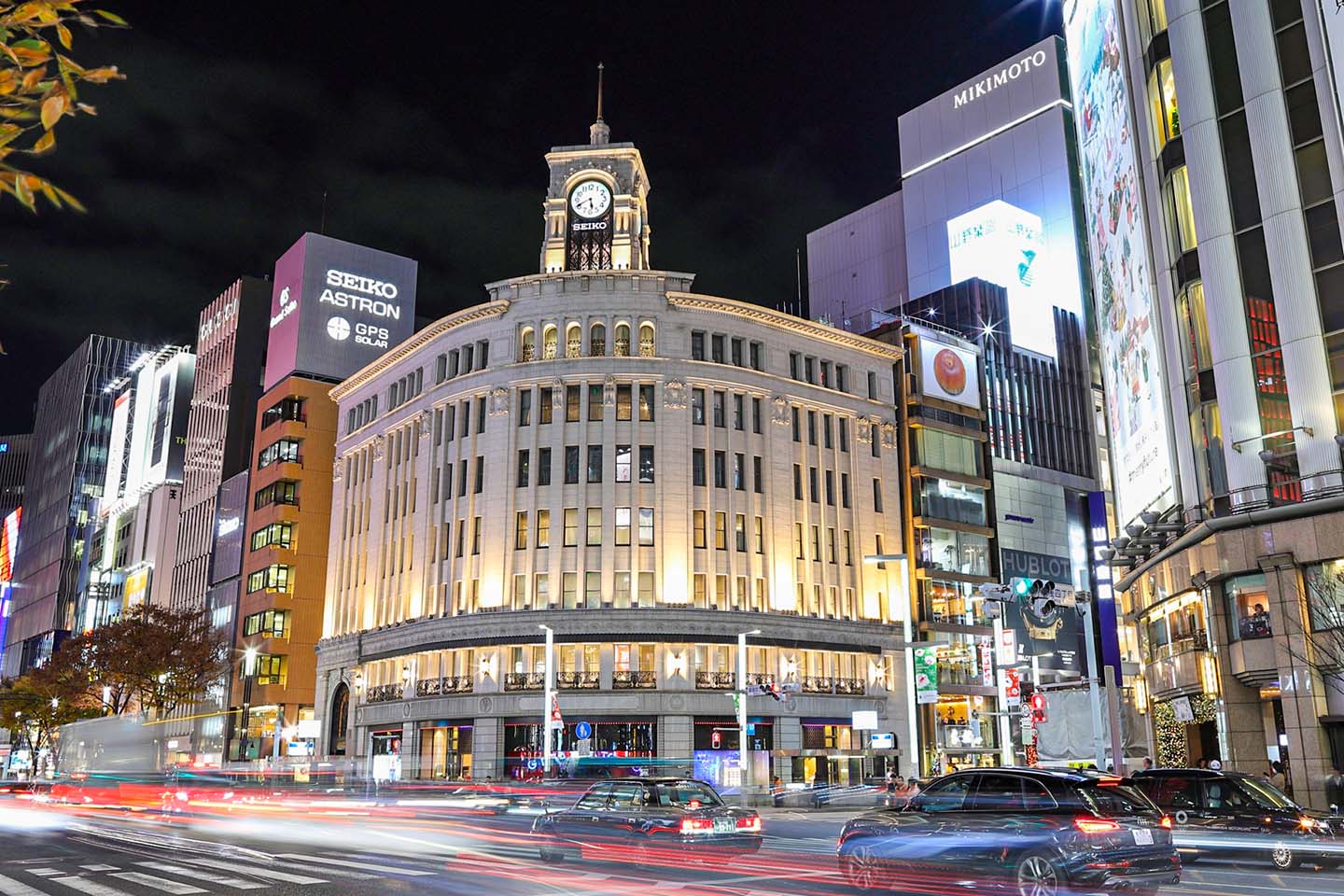 35 Best Things to Do in Ginza
Ginza is the definition of class, its upscale shopping district with top-tier brands and bold architecture creating a modern atmosphere replete with refinement.In this guide we'll introduce the best spots and activities to ensure a delightful experience tailored to your tastes. Whether you're after chic shopping, stylish restaurants, or glittering city views, we'll make sure you're acquainted with the cream of the crop.
Ginza is the definition of class, its upscale shopping district with top-tier brands and bold architecture creating a modern atmosphere replete with refinement. In this guide we'll introduce the best spots and activities to ensure a delightful experience tailored to your tastes. Whether you're after chic shopping, stylish restaurants, or glittering city views, we'll make sure you're acquainted with the cream of the crop.
Tourist Information Center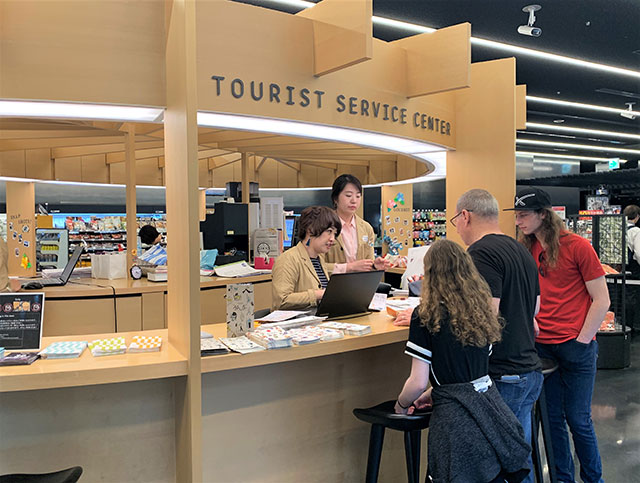 Head to one of the 6 tourist information centers in Ginza to get the scoop on what's going on.
Terminal Ginza
in the Ginza Six department store is a one-stop shop for luggage storage, souvenirs, and currency exchange, plus a convenience store.
G Info
in Tokyu Plaza has maps in several languages as well as English and Chinese support staff. Then there's the Tokyo Metro Ginza Station Passenger Information Center for a Wi-Fi hotspot before you leave the station. Next is
Ginza Tourist Information
in Mitsukoshi Ginza department store, which has an ATM, luggage deposit, and currency exchange.
Matsuya Ginza department store
has a tourist desk with staff speaking English, Chinese, and Korean.
Ginza Sony Park
also provides an information counter on their B1 floor that has support for 10 languages. Alternatively, you can find other tourist information
here
. 【設施名稱】GINZA SIX(ギンザ シックス) 【地址】東京都中央区銀座6-10-1 【電話號碼】0368913390 【設施名稱】銀座 ソニーパーク 【地址】東京都中央区銀座5-3-1 【設施名稱】銀座駅 東京メトロ案内所 【地址】東京都中央区銀座4丁目1-2
UNIQLO TOKYO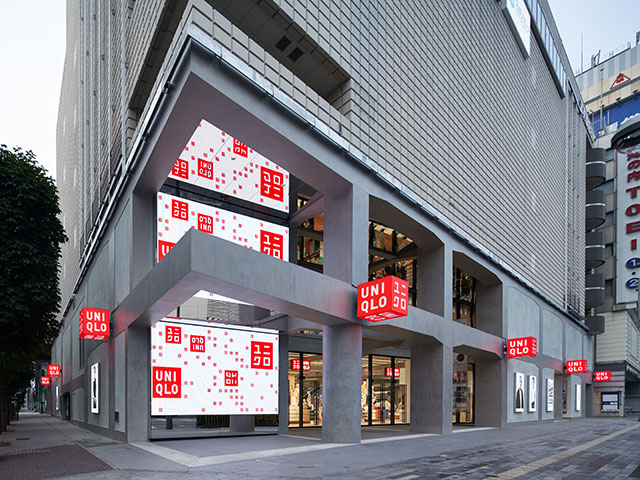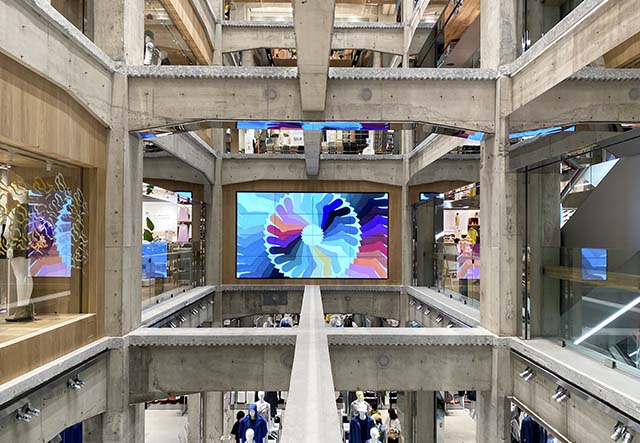 A new global flagship store, "
Uniqlo Tokyo
" has opened in Ginza at Marronnier Gate Ginza. The new store is an expansion and a renovation of the former UNIQLO Marronnier Gate Ginza and is dedicated to the brand's LifeWear line. Inside of the new 4-story flagship store is a multi-story atrium with a muted framework via a network of beams and columns for visitors to see the showcased products from every level. There are a range of high-quality, functional, affordable, and innovative fashion for men, women, children and, babies at this new flagship store. 【設施名稱】UNIQLO TOKYO 【地址】東京都中央区銀座3-2-1 マロニエゲート銀座2 地上1-4F 【電話號碼】0351593931
【NEW】Starbucks Reserve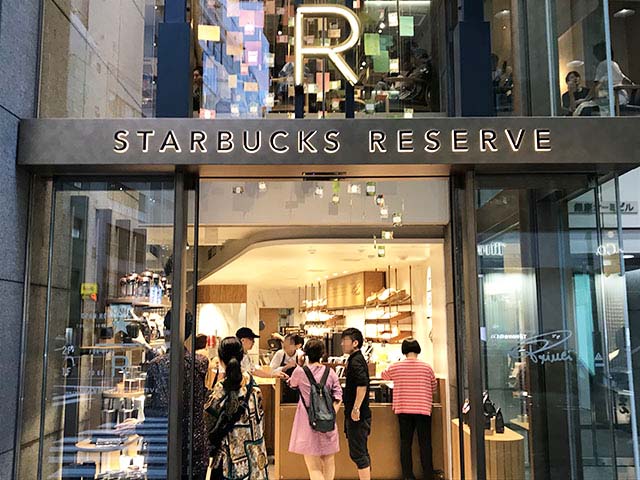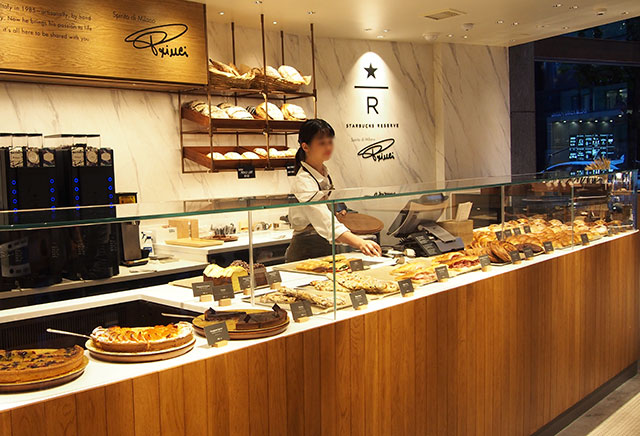 Ginza is the location of the first-ever Starbucks store in Japan. The flagship shop in this area reopened in September 2019 after undergoing a complete renovation. They have a coffee menu featuring six types of coffee extractors, and they even have an extensive selection of items from the popular Italian bakery Princi (R).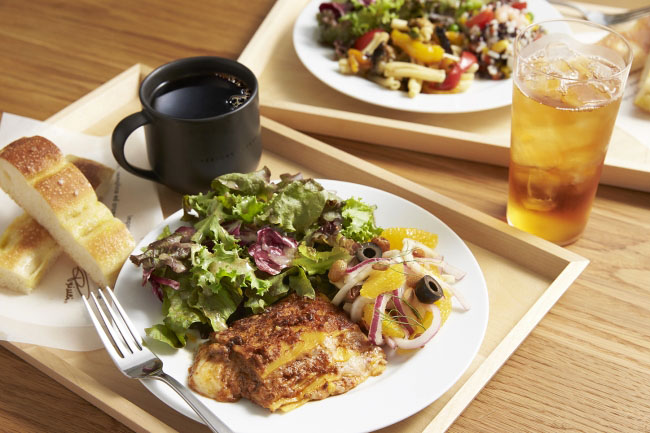 【設施名稱】スターバックス リザーブ(R)ストア 銀座マロニエ通り店 【地址】東京都中央区銀座3-7-3 銀座オーミビル 1F 【電話號碼】0335675713
【NEW】 Italian Chocolate Shop: Venchi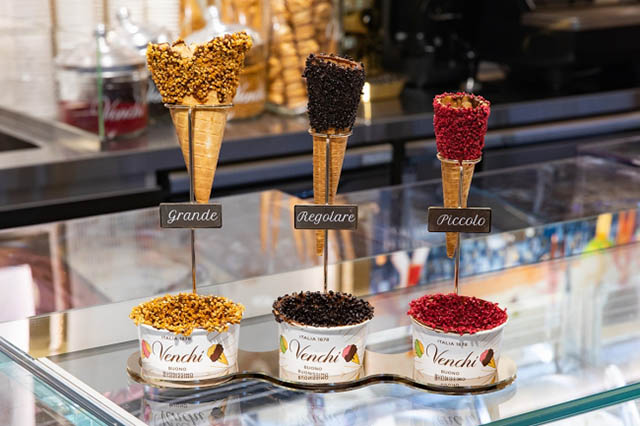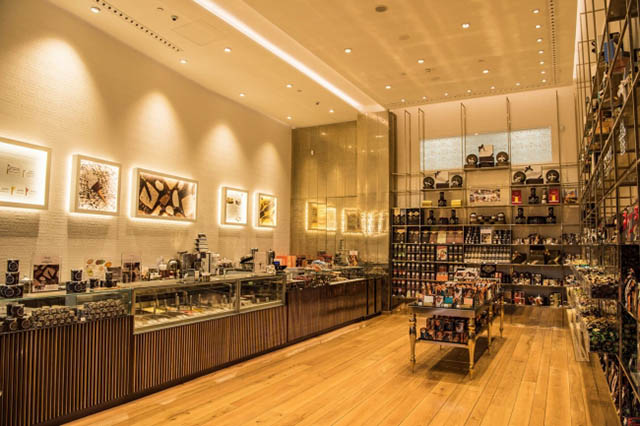 Long-established Italian chocolate shop, Venchi has opened its first branch store in Ginza. Aside from their special chocolate flavors, gelato offered at the shop comes with different fruit flavors like mango and raspberry too. Even mascarpone cream, hazelnut chocolate, and custard flavors are some of other popular flavors. 【設施名稱】ヴェンキ 銀座店 【地址】東京都中央区銀座4-3-2
【NEW】 URACORI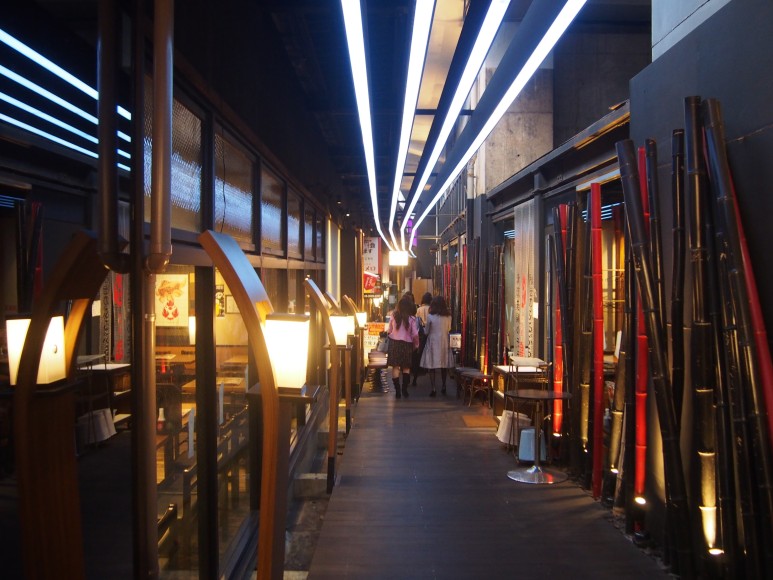 URACORI, literally translated as Ginza Back Corridor is a new izakaya alley with night club in Ginza created under the overpass that connects Shimbashi and Yurakucho station.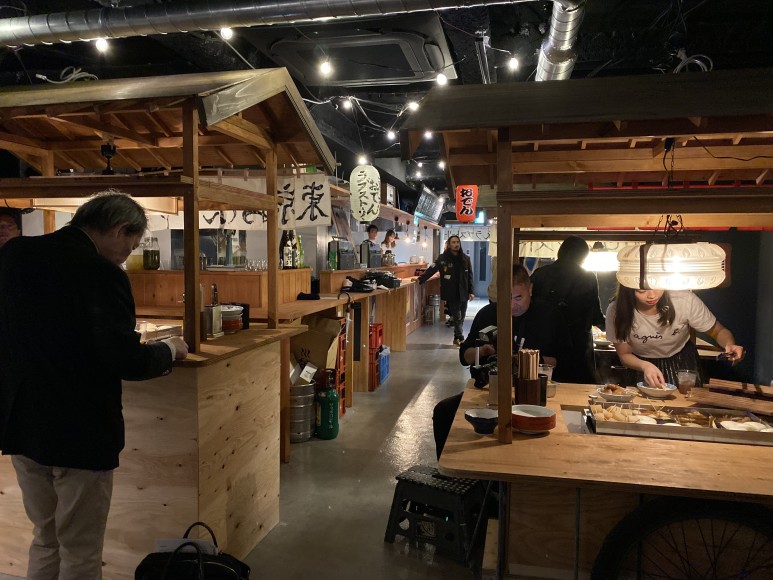 【設施名稱】銀座コリドー街 【地址】東京都中央区銀座
【NEW】 EXBAR TOKYO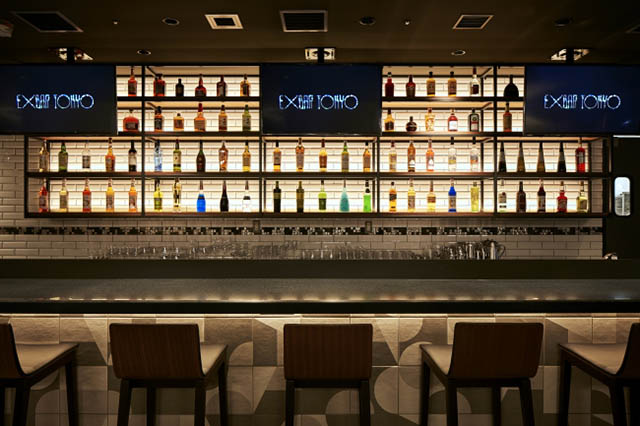 A self-service style bar,
EXBAR TOKYO
offers a gastropub area where you can enjoy tapas in a casual setting and a restaurant area where you can taste authentic, high-quality food.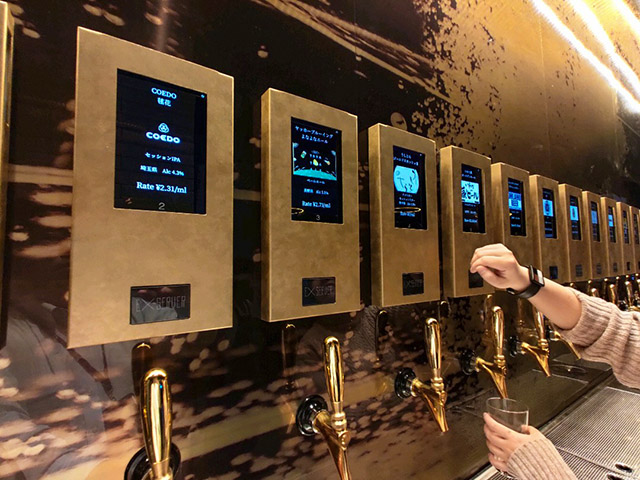 The gastropub area is equipped with a Japan's first beer server called "EX-SERVER" where the system is linked to an IC wristband so that customers can buy beer by volume. 【設施名稱】EXBAR TOKYO 【地址】東京都中央区銀座8-2-1 ニッタビル8F
Ginza Chuo-dori Street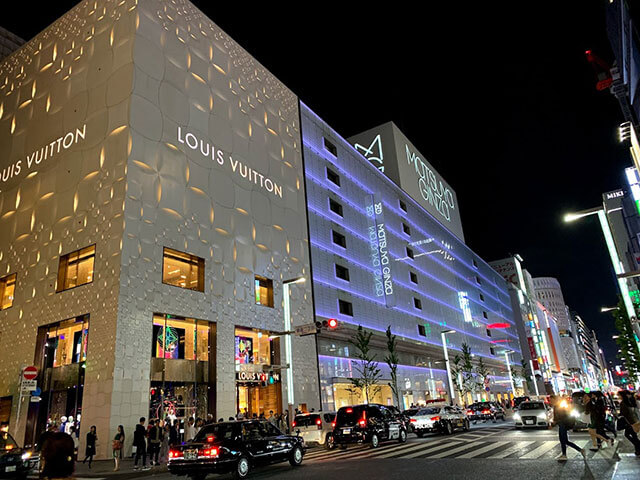 You can find anything and everything at Ginza's Chuo-dori or at Chuo Street. The atmosphere is always buzzing, yet pleasant. The area is brimming with class, and the shops filling Chuo-dori are Tokyo's most exclusive brands and boutiques. It was also chosen as one of the 100 Most Notable Streets in Japan for its unique Japanese atmosphere and cultural importance.
GINZA SIX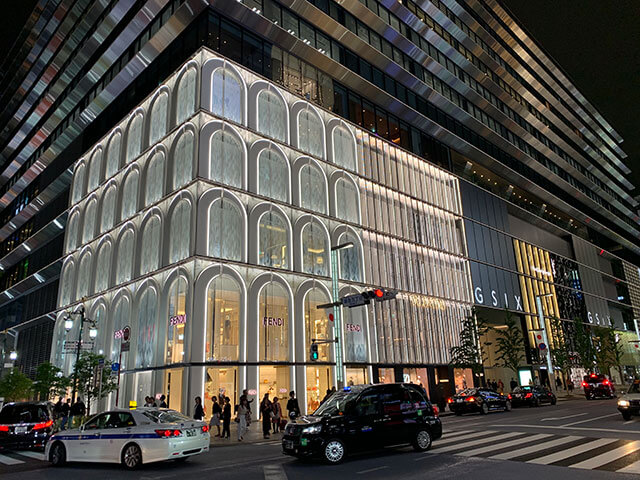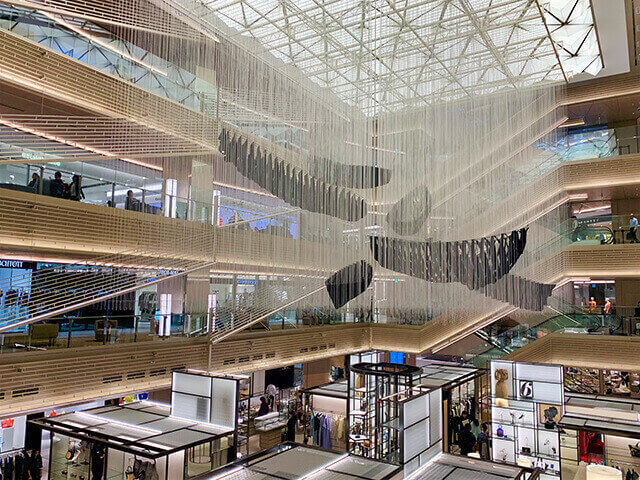 Ginza Six
is the largest shopping complex in Ginza, offering a warm and stylish space for an assortment of shops and restaurants to peruse at your leisure. The rooftop holds a garden that, on clear days, provides views of Tokyo Skytree, Tokyo Tower, and even Mount Fuji. Inside the complex, the hanging art installations are done by world-renowned designers, and they're changed periodically to much media attention. 【設施名稱】GINZA SIX(ギンザ シックス) 【地址】東京都中央区銀座6-10-1 【電話號碼】0368913390
3 Historic Department Stores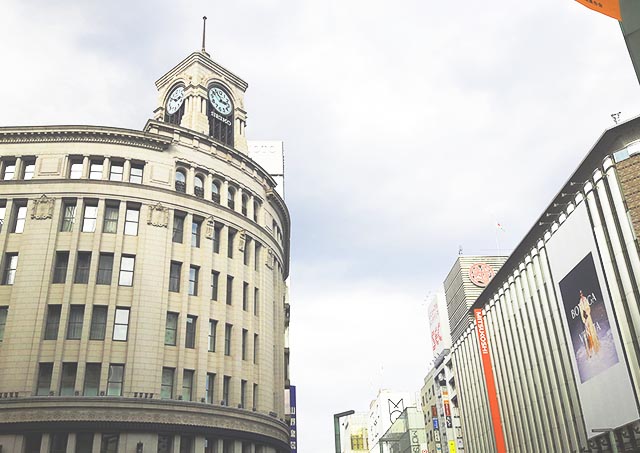 The rounded facade of
Wako Ginza
may look familiar from pictures, because this iconic department store and its clock tower have been in operation over 80 years, selling jewelry, accessories, and other upscale items. It's okay to simply window-shop and enjoy the architecture though.
Mitsukoshi
has also been in business for more than 80 years, and its chic apparel and brand items are arranged over 16 floors, with 2 event spaces to boot.
Matsuya Ginza
boasts 90 years of history, and the fashion, cosmetic, and household items are of the highest quality. Treat yourself to something special in this historic shopping district.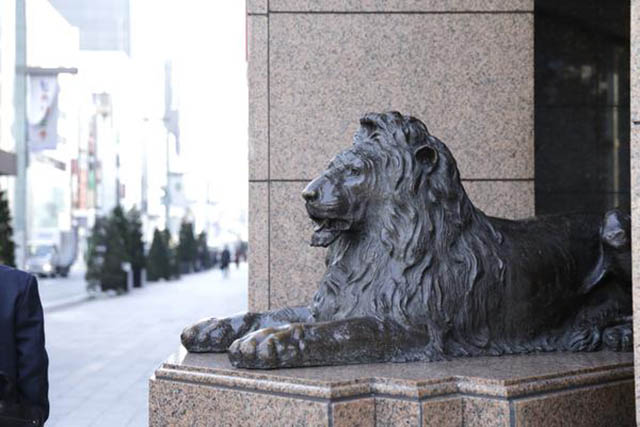 【設施名稱】和光本館 【地址】東京都中央区銀座4-5-11 【電話號碼】0335622111 【設施名稱】銀座三越 【地址】東京都中央区銀座4-6-16 【電話號碼】0335621111 【設施名稱】松屋銀座 【地址】東京都中央区銀座3-6-1 【電話號碼】0335671211
Muji and Muji Hotel Ginza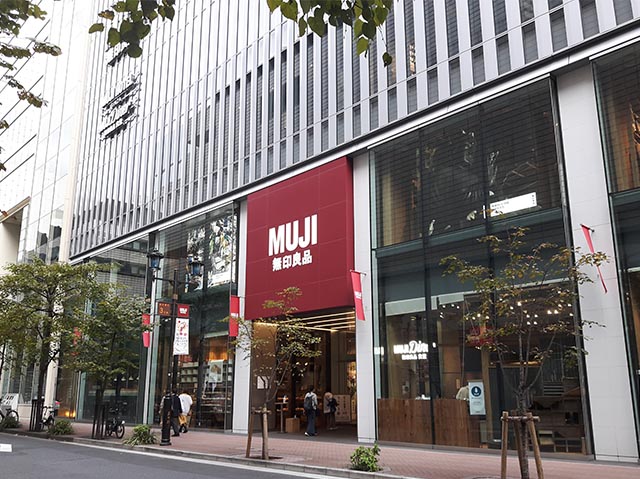 Opened in April 2019,
Muji Ginza
is the worldwide flagship location for the trusted food and household goods store. Muji Ginza spans 11 floors and carries everything from appliances to clothing to foodstuffs, and even has a bakery and a diner. On the 7th to 10th floors is Japan's first
Muji Hotel
, a warm lodging offering homey rooms sure to put you at ease. You might never want to leave.
【設施名稱】MUJI HOTEL GINZA(ムジホテル銀座) 【地址】東京都中央区銀座3-3-5 【電話號碼】0335386101
LOFT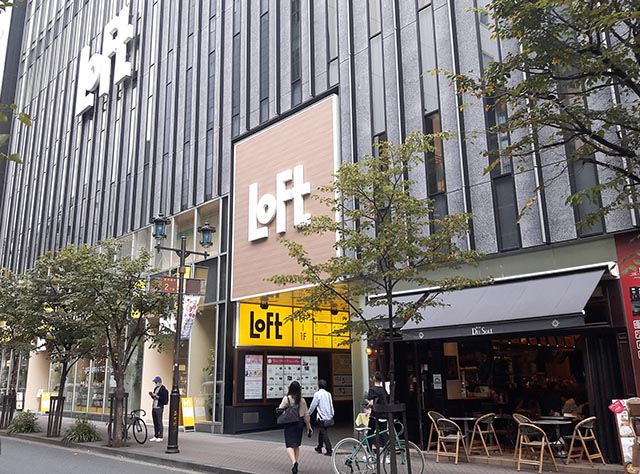 Reopened after extensive renewals in April 2019,
Loft
is a trendy general store specializing in healthy and natural products. The redesign was meant to translate 5 themes into the atmosphere of the location: Nature, Beauty, Japan, Food, and Story. So the vibe is relaxed and organic when you walk in, ready to peruse the 70,000 items they have for sale. Items range from beauty products to sneakers to stationery, and you'll have plenty of options to choose from among dozens of categories. They also have an airy cafe if you need a breather. 【設施名稱】銀座ロフト 【地址】東京都中央区銀座2-4-6 銀座ベルビア館1-6階 【電話號碼】0335626210
Stationery store: Itoya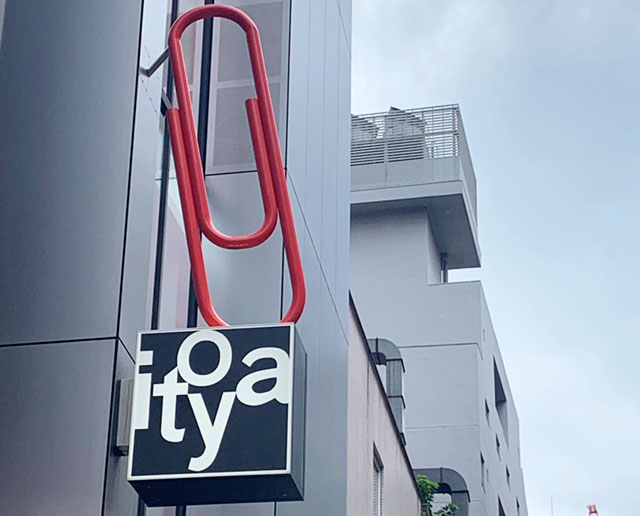 Itoya
is a stationery store that has been around for over a hundred years, and the new flagship in Ginza is a colorful and modern space filled with every kind of paper, pen, and card you could ask for. Aside from a deep selection of stationery, they also carry interior decorations and travel items for you to consider. Lovers of notebooks and paper items will want to make time to get lost in Itoya.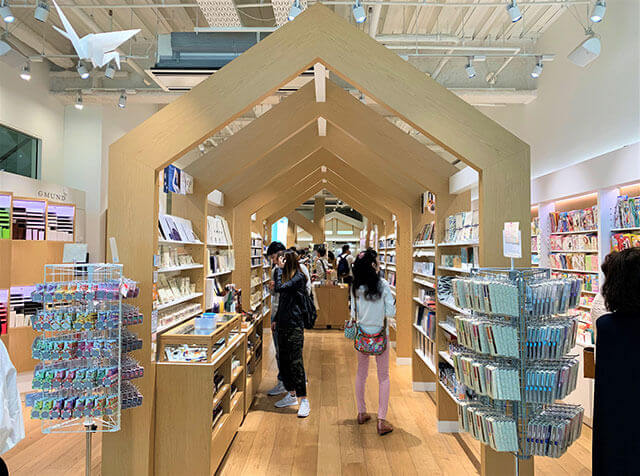 【設施名稱】銀座 伊東屋 【地址】東京都中央区銀座2-7-15 【電話號碼】0335618311
TOKYO MIDTOWN HIBIYA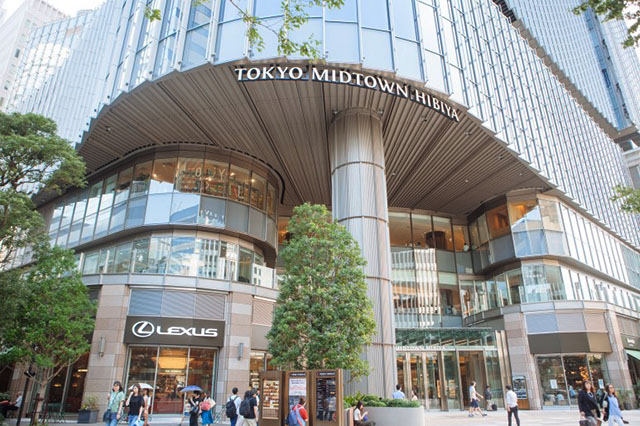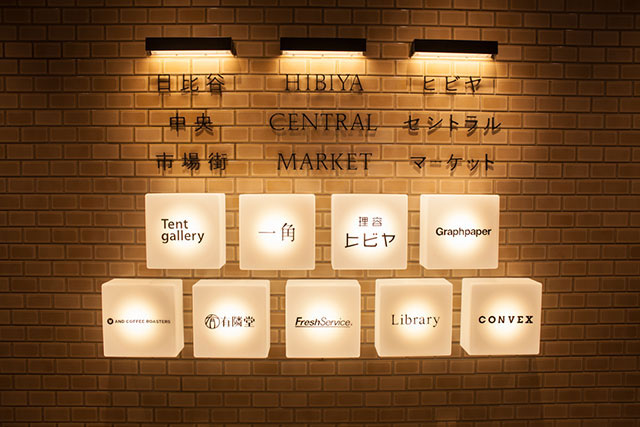 Housing more than 60 shops,
Tokyo Midtown Hibiya
is a shopping complex that caters to customers with high-end tastes. The complex was built in 2018 and in its upscale boutiques you will find all the latest fashions from Tokyo as well as from other parts of the world. There are also a variety of restaurants and cafes that offer delicious cuisine from Italy, America, Southeast Asia, and more. When you want to relax from shopping, catch a movie in the massive cinema that seats 2,800 people, or head to the terrace garden to enjoy some beautiful views. Tokyo Midtown Hibiya is a 5 minute walk from Yurakucho Station.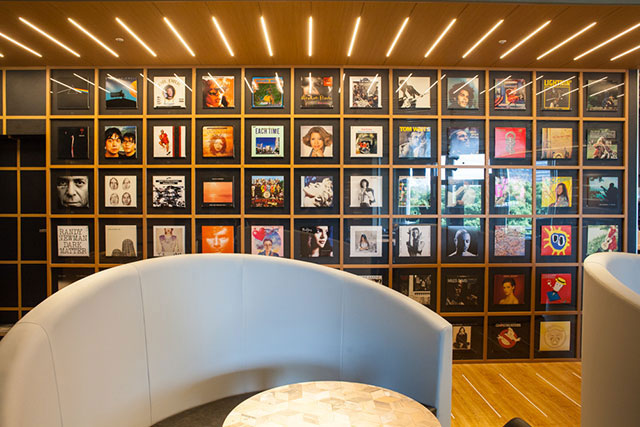 【設施名稱】TOKYO MIDTOWN HIBIYA(東京ミッドタウン日比谷) 【地址】東京都千代田区有楽町1-1-2 【電話號碼】0345809159
Tokyu Plaza Ginza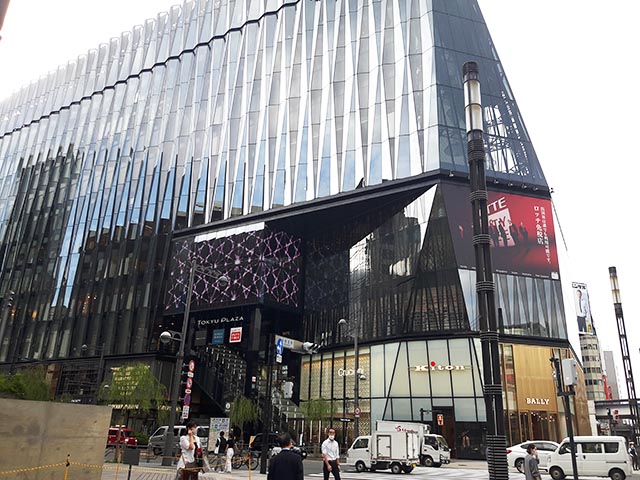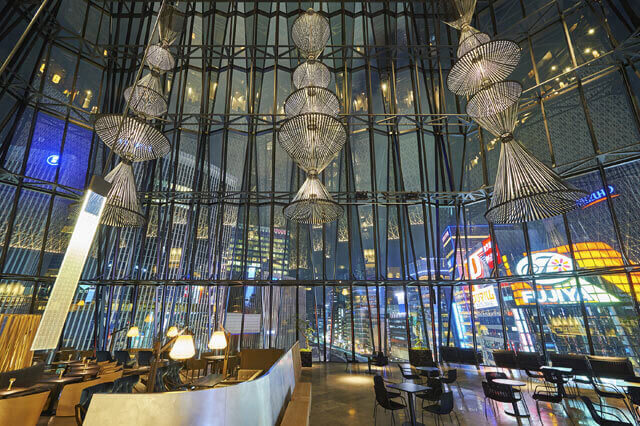 With 5 basement and 11 above-ground floors,
Tokyu Plaza Ginza
is an expansive complex. It holds an envious list of restaurants and shops, as well as a strong offering of services geared toward tourists. Lotte Duty-Free Ginza occupies the 8th and 9th floors of the complex, making it the largest one in Tokyo. You can handle all of the duty-free paperwork in the store just to make things easier. On the 6th floor you'll find the Kiriko Lounge, an open-air event space that has ceilings as high as 27 meters with excellent city views. The rooftop Kiriko Terrace is an oasis holding a low-key viewing pool and a cafe enclosed by green walls, both offering stunning views of Ginza. 【設施名稱】東急プラザ銀座 【地址】東京都中央区銀座5-2-1 【電話號碼】0335710109
Duty-free chain: LAOX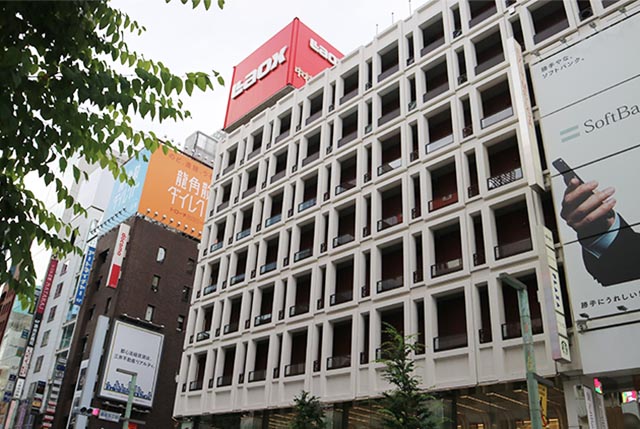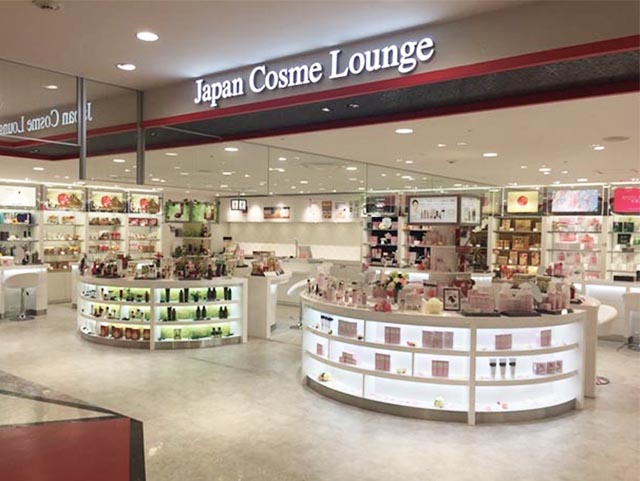 Laox
is a large duty-free store, with many branches all over Japan. Electronics, cosmetic brands, health foods, daily necessities, transportation tickets and other goods can all be found at Laox 【設施名稱】ラオックス EXITMELSA店 【地址】東京都中央区銀座5-7-10 EXITMELSA 5・6F 【電話號碼】0355379990
Check out the Architecture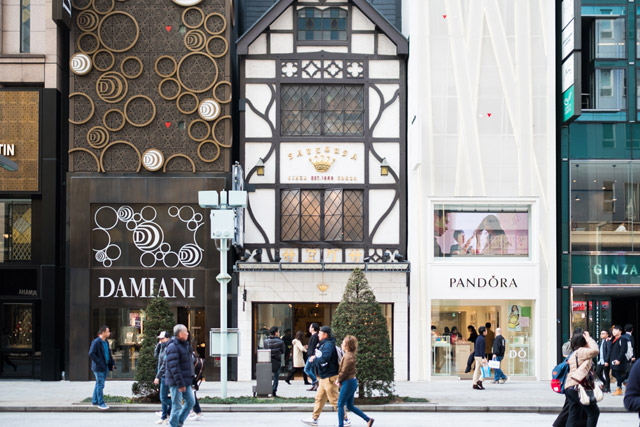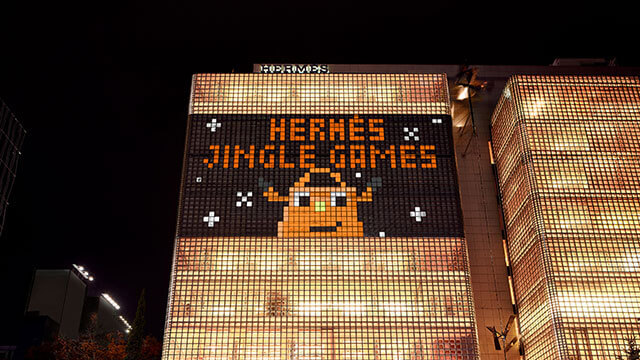 Especially in recent years, Ginza is being remade with incredible buildings and brand flagship stores that are best-in-class. Even if you aren't interested in the products, you'll want to experience places like Maison Hermes, which is constructed entirely of glass cubes, or the Mikimoto Boutique with its irregular windows and reinforced concrete. These days there's something new popping up all the time, especially the new generation of department store like Ginza Place and Tokyu Plaza, which blend modern retail and dining into spaces that aren't just containers, but attractions and experiences in and of themselves. 【設施名稱】銀座メゾンエルメス フォーラム 【地址】東京都中央区銀座5-4-1 8 階 【電話號碼】0335693300
Sony Park: Limited time only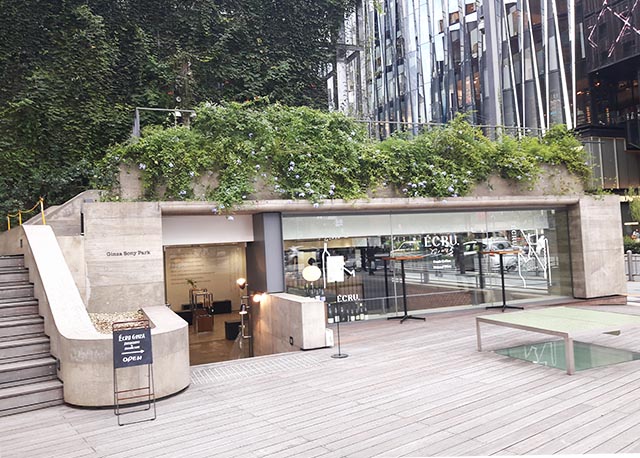 Opened in 2018 on the site of the former Sony Building,
Ginza Sony Park
takes you on an underground park experience. This vertical park begins on ground level and stretches 3 floors underground with each floor offering something different. The first floor is adorned with a variety of exotic plants which are for sale. Once they are sold, they're replaced with more plants, making this an ever-changing garden. Check out the digital art exhibition, skate around the roller rink, and when you need some refreshments, head down to "Beer To Go" where they offer 17 kinds of craft beer. Ginza Sony Park is a 5 minute walk from Yurakucho Station, and is only open until
September 2021
, so be sure to visit before it's too late. 【設施名稱】銀座 ソニーパーク 【地址】東京都中央区銀座5-3-1 【設施名稱】BEER TO GO by SPRING VALLEY BREWERY(ビール トゥ ゴー バイ スプリング バレーブルワリー) 【地址】東京都中央区銀座5-3-1 Ginza Sony Park B4F
Art Galleries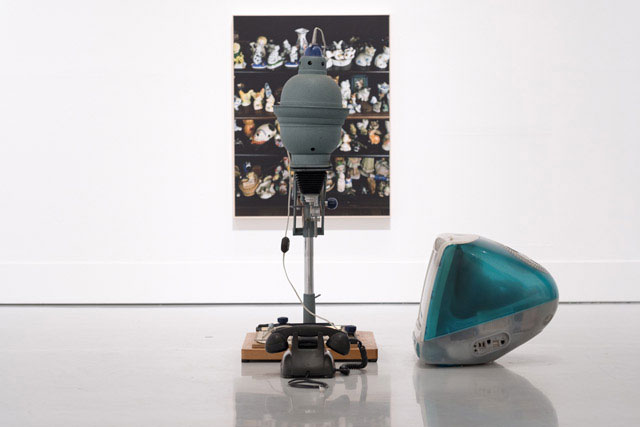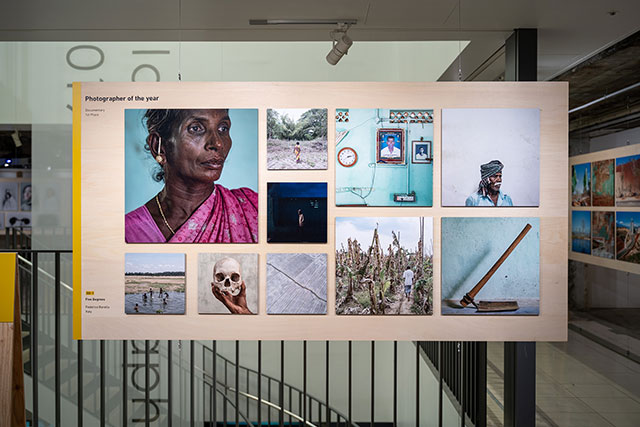 Just walking through the side streets of Ginza you'll find plenty of art galleries (over 200 in fact), but if you don't know what you're looking for, you might walk right past them. These spaces can be found on various floors of buildings, rarely front and center on the sidewalk, so if you're looking for a gallery experience (especially for Japanese art) it's best to do a little homework before heading out. Gallery Tsubaki is well-worth the visit, and you can even check out the Shiseido Gallery which is right on the main street.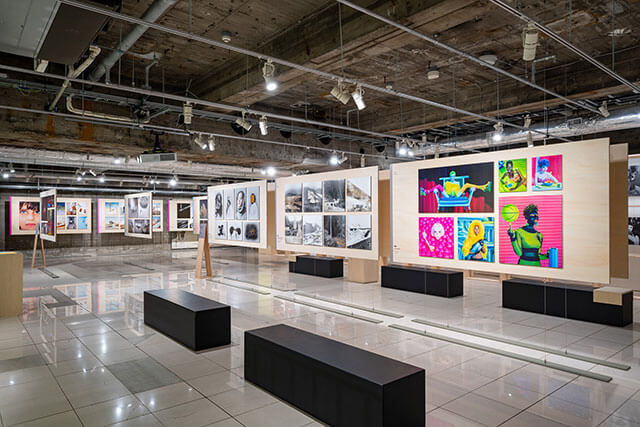 【設施名稱】ギャラリー椿 【地址】東京都中央区京橋3丁目3-10 【電話號碼】0332817808 【設施名稱】Dover Street Market Ginza(ドーバーストリートマーケットギンザ) 【地址】東京都中央区銀座6-9-5 ギンザコマツ西館 【電話號碼】0362285080 【設施名稱】銀座 ソニーパーク 【地址】東京都中央区銀座5-3-1
Nissan Crossing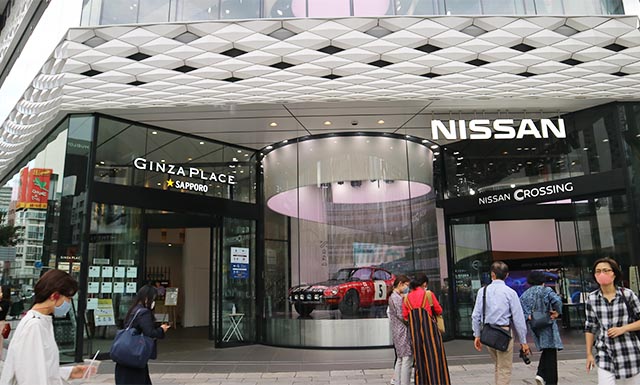 Nissan Crossing is the flagship showroom of Nissan, where the latest Nissan concept vehicles and rare classic cars are on display. On the other, at the Central Stage, you can learn about the brand's cutting-edge technology and watch related videos on a high-definition LED screen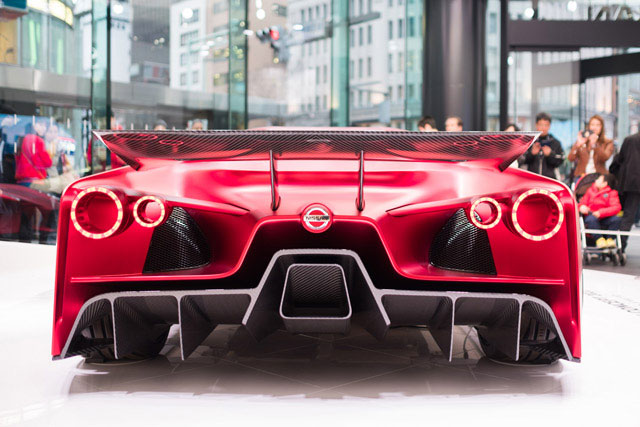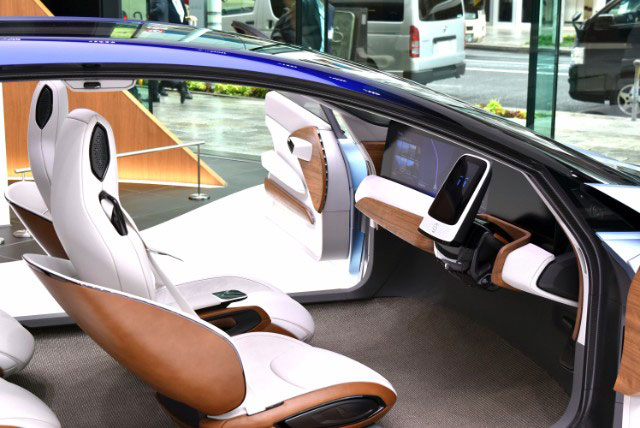 【設施名稱】NISSAN CROSSING(ニッサン クロッシング) 【地址】東京都中央区銀座5-8-1 銀座プレイス1・2F 【電話號碼】0335730523
Kabuki Theater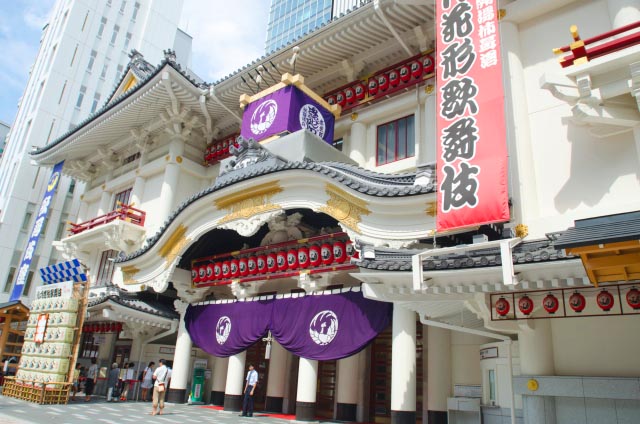 Kabuki is a Japanese traditional theatre form, inscribed on Representative List of the Intangible Cultural Heritage of Humanity in 2008. It was originated in the Edo period at the beginning of the seventeenth century and was particularly popular among townspeople. There is an afternoon show, which starts at 11:00 am, as well as an evening show, which starts after 4:00 pm. Each show consists of three programs. An English subtitle guide (1,000 yen) is also available and tickets can be purchased from its official webpage
here
. 【設施名稱】歌舞伎座 【地址】東京都中央区銀座4-12-15 【電話號碼】0335456800
Sushi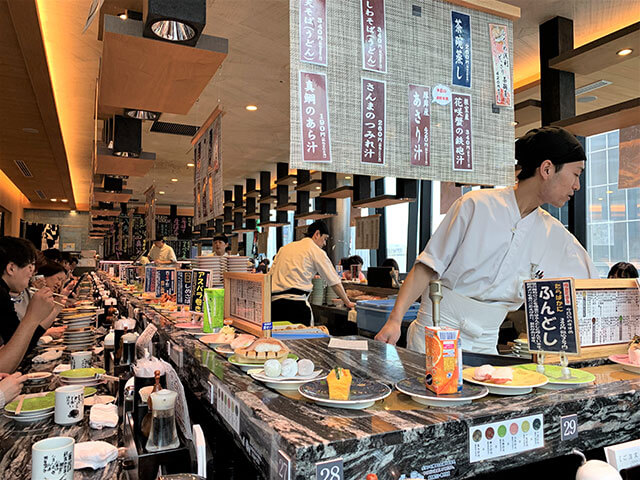 Ginza is an area well-known for its wealth of fine sushi restaurants, but this particular spot has become one of the most popular place.
Hanamaru Sushi
is a chain of sushi restaurants that first originated in Nemuro, Hokkaido. The Ginza branch is located on the restaurant floor of the Tokyu Plaza Ginza, a commercial facility, where many popular restaurants are to be found. Kaiten Sushi Nemuro Hanamaru has such a thriving business that there is usually a line of eager customers waiting to get in when the shop opens at 11:00 a.m.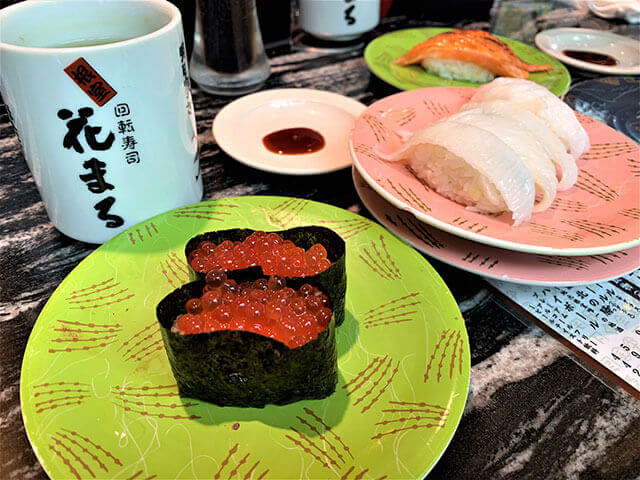 【設施名稱】回転寿司 根室花まる 東急プラザ銀座店 【地址】東京都中央区銀座5-2-1 東急プラザ銀座 10F 【電話號碼】0362645735
Michelin Guide Ramen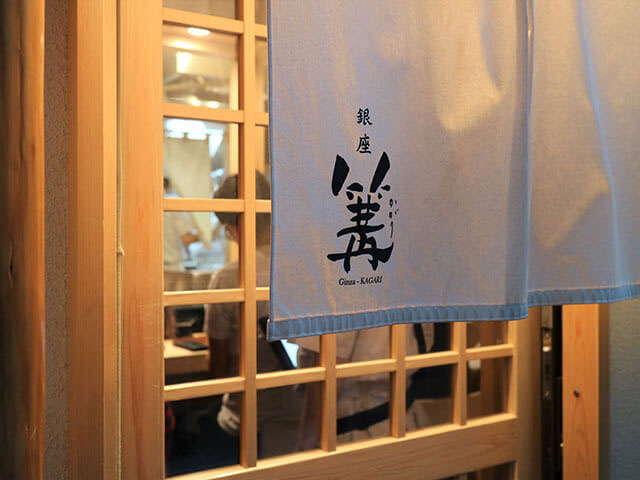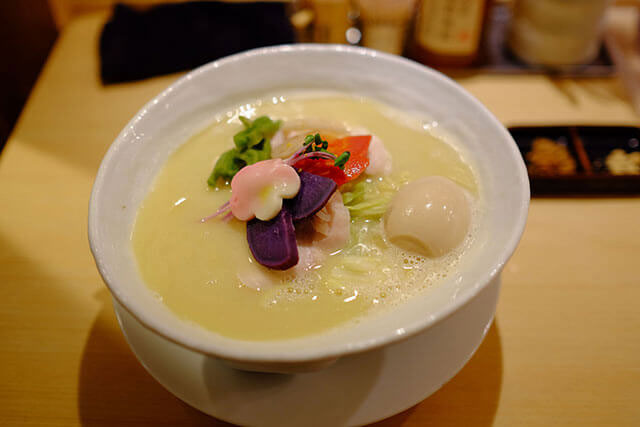 Ginza is also a neighborhood where you can find excellent ramen. There are tantalizing vegan options and even shops that have popped up in the Michelin Guide.
Kagari
has been selected to be in the Bib Gourmand by the Michelin Guide, a special honor awarded to restaurants that are both cheap and delicious. Kagari has only 8 counter seats in a warm wooden interior, making for an intimate dining experience, and the Toripaitan Soba is what put them on the map. Offering a creamy chicken-based soup with slices of chicken chashu, the Toripaitan Soba is a sophisticated take on ramen sure to impress. 【設施名稱】銀座 篝 本店 【地址】東京都中央区銀座6-4-12 1F 【電話號碼】0362638900
Anpan: Japanese Sweet Roll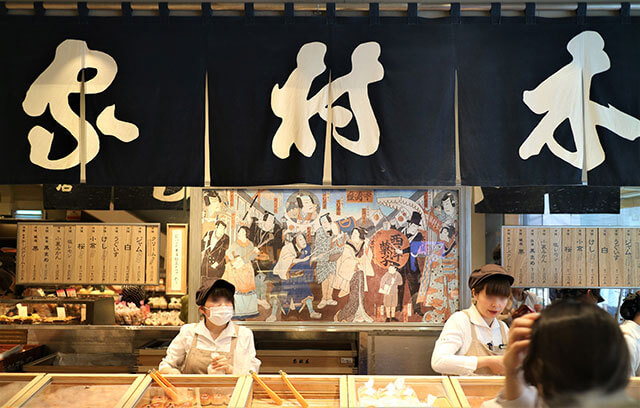 Anpan, or red-bean-paste filled sweet rolls, are the perfect antidote to retail fatigue. Head across the Ginza Yonchome intersection to find Kimuraya Ginza, a bakery where they make their own anpan fresh daily. The delicious smell of freshly baked goods wafts out onto the street, so just follow your nose. They also have a cafe section for a brief rest before you head back out for more shopping.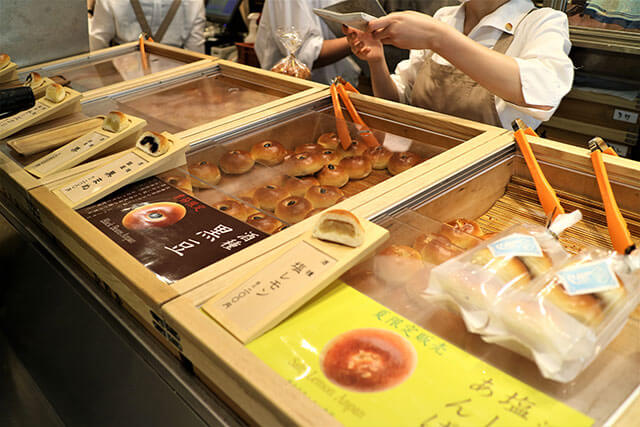 French sweets at Ladurée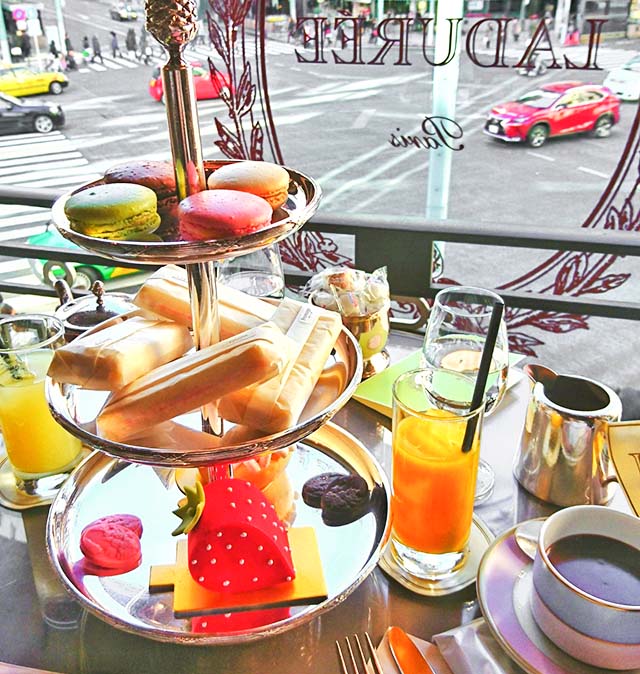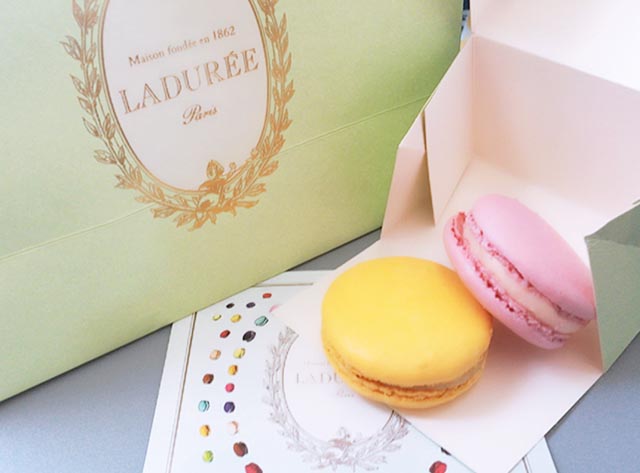 The
Ladurée
pastry house, based in Paris, has been making macarons since the mid-20th century. Its macarons have a perfect balnace of flavors just sweet enough and with the perfect texture that simply melts in your mouth.The shells have a light and crunchy texture and are slightly chewy on the inside. On the second floor of Ginza Mitsukoshi department store, different sweets can be enjoyed overlooking the Ginza crossings. 【設施名稱】ラデュレ サロン・ド・テ 銀座三越店 【地址】東京都中央区銀座4-6-16 銀座三越 2F 【電話號碼】0335632120
Japanese sweets at SALON GINZA SABOU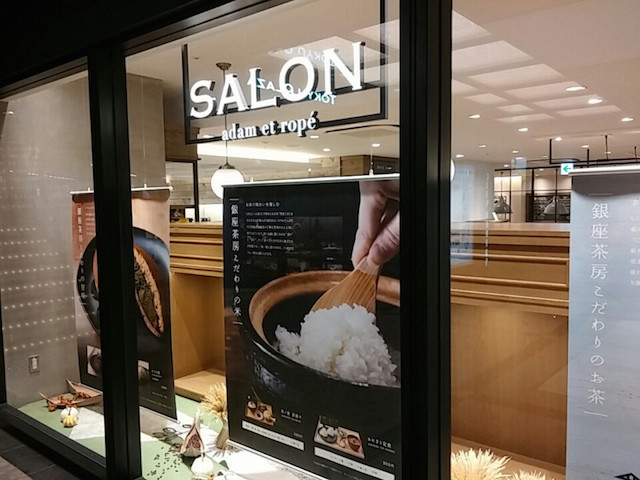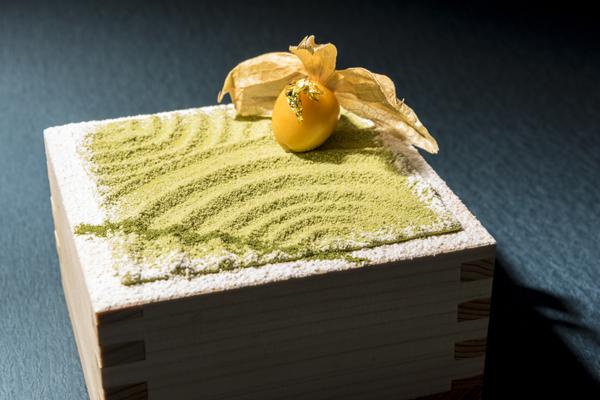 From its appearance looking more like karesansui (a style of Japanese gardening founded on Zen ideology, and uses rocks and sand to express nature and the universe), the green tea parfait went viral on social media. Ever since then, many visit this café,
Salon Ginza Sabou
to try this sweets. Underneath is green tea powder, there is a layer of white chocolate, and if you crack it open, greentea ice cream, green tea mousse, warabi-mochi (jelly like confection), chestnuts, rice puffs and whole other items are hidden and can entertain with your eyes and mouth. 【設施名稱】SALON GINZA SABOU(サロン ギンザ サボウ) 【地址】東京都中央区銀座五-2-1 B2F 【電話號碼】0362645320
Hibiya Park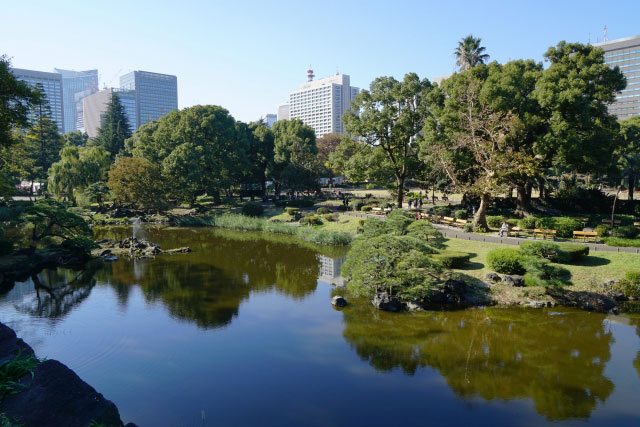 Hibiya Park is home to a tranquil Japanese garden that has a stone wall, a moat dating from the Edo period, and a wide space that is used to host several events throughout the year. The Hibiya Oktoberfest takes place around the middle of May, and is a fun romp filled with beer and live music. Also, every summer, a dose of culture and traditional performing arts will be held during the
Hibiya Oedo Matsuri Festival
.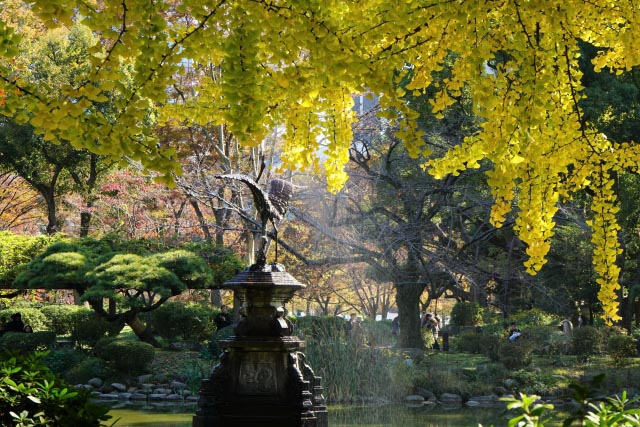 【設施名稱】日比谷公園 【地址】東京都千代田区日比谷公園1-6 【電話號碼】0335016428
Rooftop Garden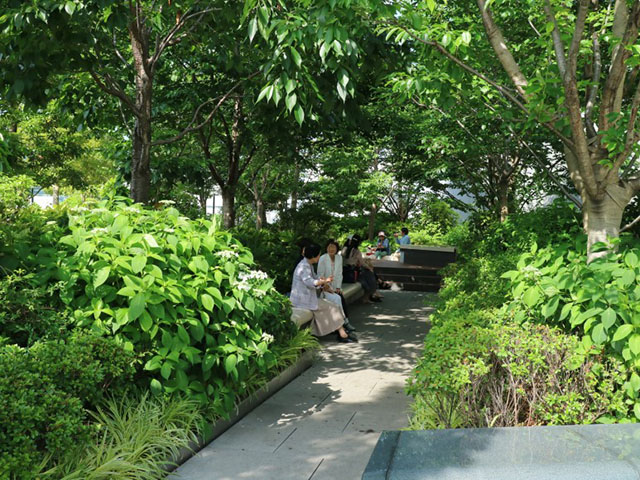 Ginza Six Garden
is not only enormous but also offers a 360 degree view over Ginza and central Tokyo. The seating areas between the trees and bushes make for a perfect picknick spot all year around but especially at night when the city is illuminated, revealing its full beauty.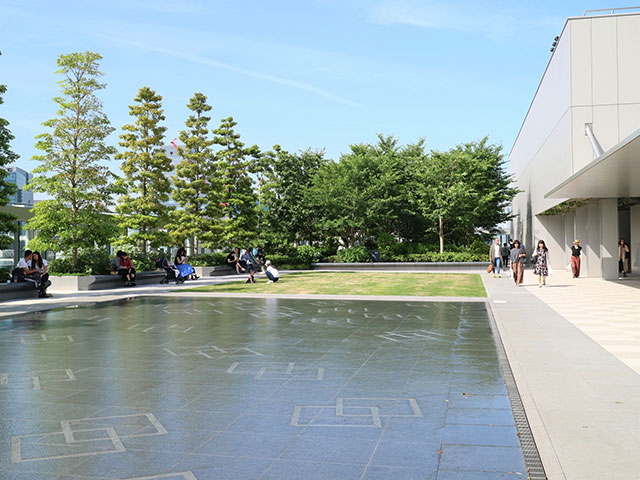 The rooftop garden at
Hibiya Midtown
is one of Tokyo's finest, with a view of not only Hibiya park, but also the entire Imperial Palace, offering a one-of-a-kind panorama over a more green side Tokyo.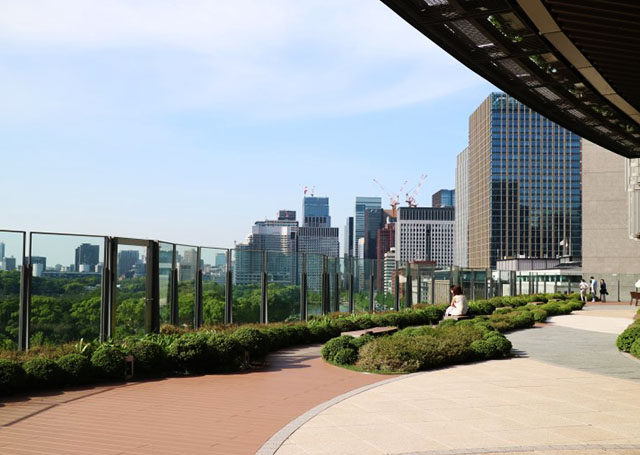 【設施名稱】GINZA SIX(ギンザ シックス) 【地址】東京都中央区銀座6-10-1 【電話號碼】0368913390 【設施名稱】TOKYO MIDTOWN HIBIYA(東京ミッドタウン日比谷) 【地址】東京都千代田区有楽町1-1-2 【電話號碼】0345809159
Shrines in Ginza district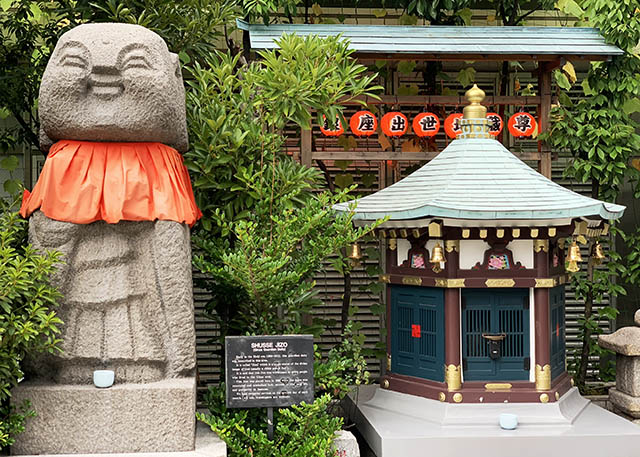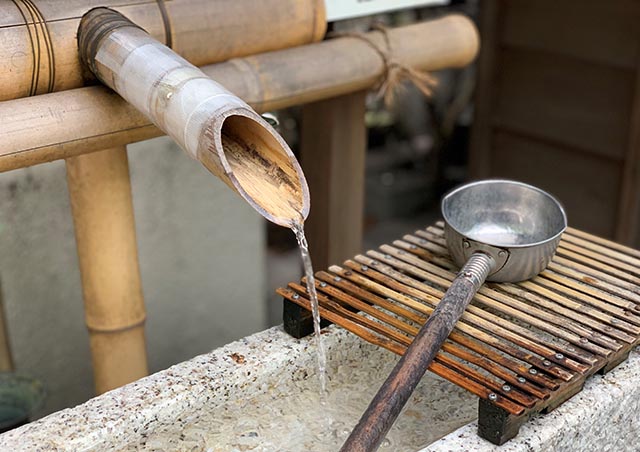 Tucked away in the back alleys of Ginza is
Toyoiwa Inari Shrine
, a power hot spot in the middle of a bustling city, and it enshrines the god known for granting favors to romantic relationships. The Toyoiwa Inari Shrine is a 5 minute walk from Ginza Station. Another shrine to check out is
Mimeguri Shrine
, which is located on the rooftop terrace of Ginza Mitsukoshi, a 2 minute walk from Ginza Station. Enshrined here is the god of wealth who is said to bring good luck and successful to visitors with business ventures. You will see the iconic Ginza
Shusse Jizo
statue which has been designated as a Tangible Folk Cultural Property. There are many other shrines to visit in Ginza as well such as
Azuma Inari
,
Asahi Inari
, and
Kabuki Inari
.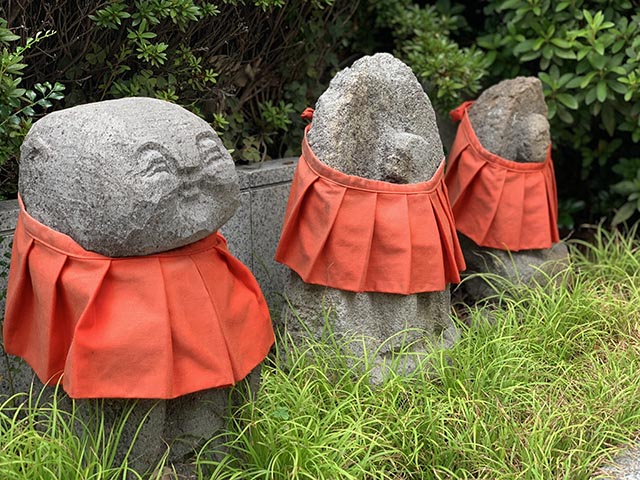 【設施名稱】豊岩稲荷神社 【地址】東京都中央区銀座7-8-14 【電話號碼】0362645639 【設施名稱】銀座三越 【地址】東京都中央区銀座4-6-16 【電話號碼】0335621111
SAKE HALL HIBIYA BAR & 300BAR
Feeling like a sake kind of night?
Sake Hall Hibiya Bar
is a classy bar that specializes in sake cocktails for a modern and refreshing take on the classic Japanese liquor. The inspired food pairings add another layer to the experience and come highly recommended.
300Bar
is a bustling joint that offers premium sake for 300 yen a glass, as well as side dishes and finger foods. The 8-chome location has live DJs that make this standing bar bump, creating a festive vibe befitting of the drink prices. And weekends are when things really get wild. 【設施名稱】SAKE HALL HIBIYA BAR 【地址】東京都中央区銀座5-6-12 みゆきビル B1F 【電話號碼】0335727123 【設施名稱】新橋 貸切 スリーハンドレッドバー 8丁目店 【地址】東京都中央区銀座8-3-12 ギンザ須賀ビルB1 【電話號碼】0335718300
Music Lounge & Nightclub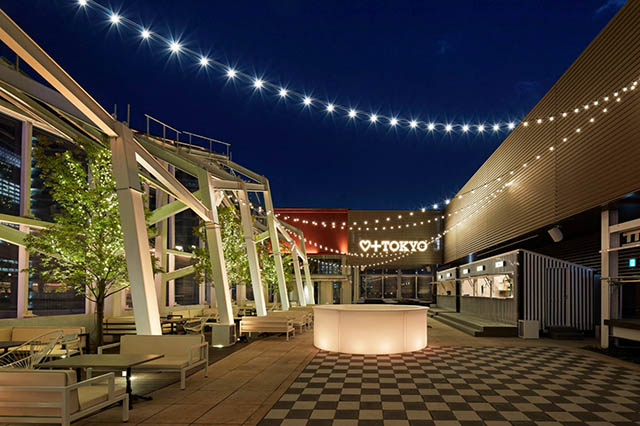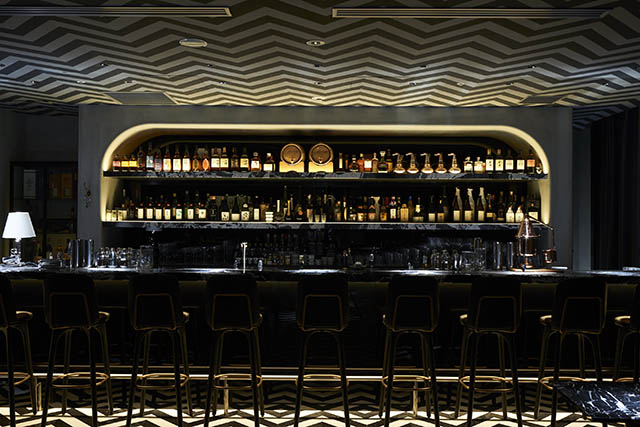 Home to two floors: the 990m² lounge floor themed to look like a hotel lobby, and the 595m² rooftop that lets has you feeling like you're at a resort despite being in the middle of Tokyo,
Plus Tokyo
offers a new night time hot-spot, combining elements of art, food, drinks and entertainment with music.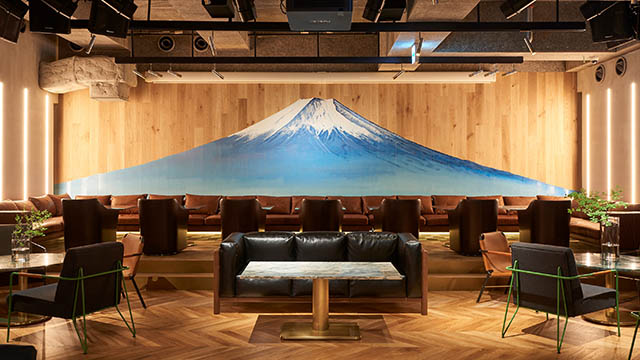 【設施名稱】PLUSTOKYO 【地址】東京都中央区銀座1-8-19 キラリトギンザ 12F
Yurakucho Gado-shita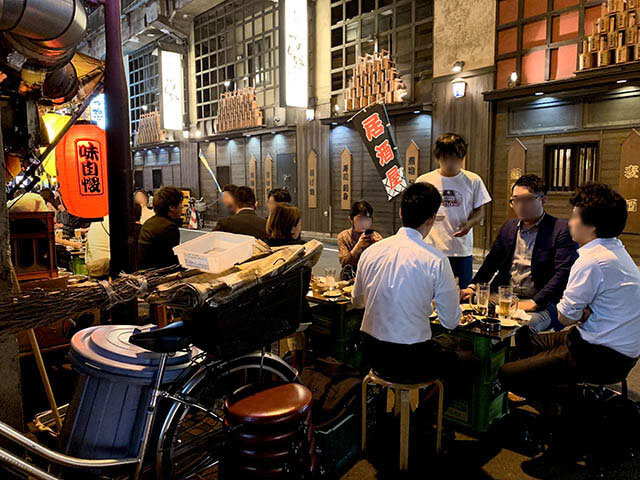 The Gado-shita in Yurakucho refers to the slew of izakayas, or Japanese bars, under the Yamanote Line, and it's quickly gaining popularity with tourists. When the sun goes down, the area comes alive with hanging lanterns and people looking for a good time. The izakayas offer welcoming and lively atmospheres enhanced by the tight quarters and rumbling of the overhead trains. Food and drinks are usually cheap, plus you'll likely make a few new friends. 【設施名稱】有楽町 【地址】東京都千代田区丸の内3丁目
Beer Hall: Ginza Lion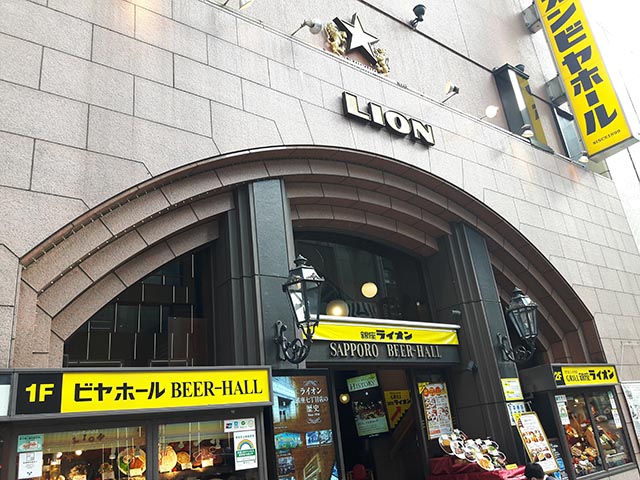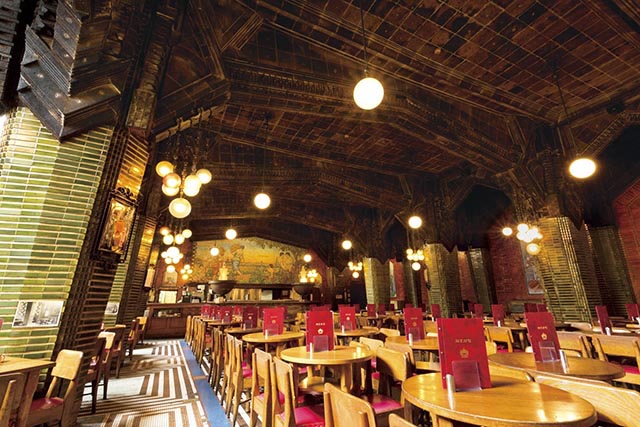 Originally built in 1934, Ginza Lion is the oldest beer hall in all of Japan. Although some renovations have been made to the building, the first floor has retained almost the same appearance as when it was first built which takes you back in time to the 1930's. With its wood panelling, high ceilings, and wall paintings, Ginza Lion looks much like a Bavarian beer hall. They serve up Sapporo beer poured by a beer master to make sure you get the best glass of beer every time. Along with your beer, you can choose from an assortment of German-inspired snacks. Ginza Lion is a 1 minute walk from Ginza Station. 【設施名稱】ビヤホールライオン 銀座七丁目店 【地址】東京都中央区銀座7-9-20 銀座ライオンビル1F 【電話號碼】0335712590
Food from Across Japan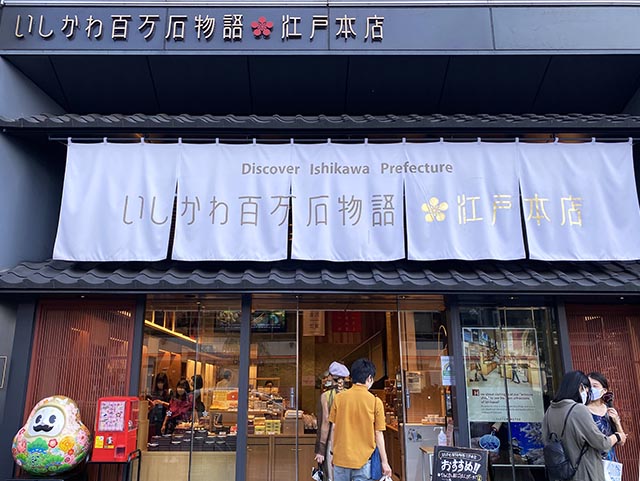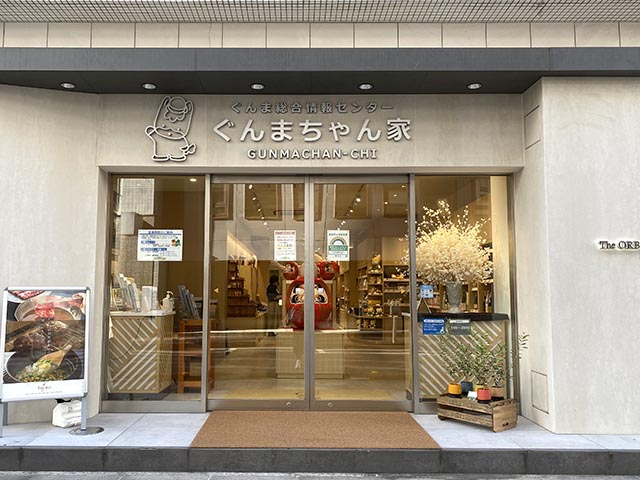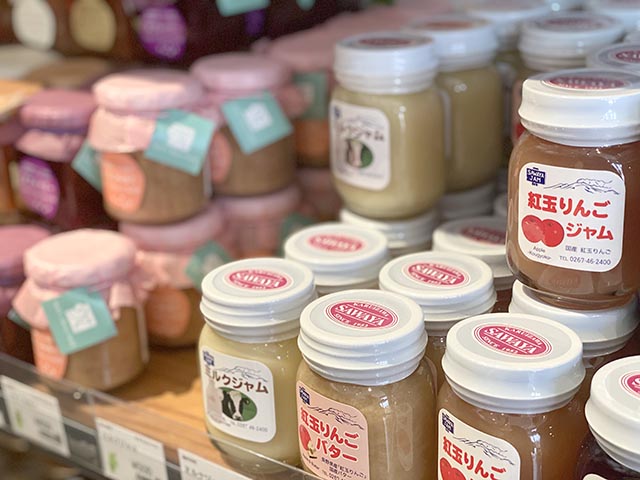 Prefectural antenna shop is a shop that sells items, mainly food and beverages, from prefectures outside of Tokyo to promote regions through food and souvenirs. There are over 60 antenna shops in Tokyo, with over 28 of them in Ginza and Yurakucho alone, which allows you to experience the different regions of Japan all in one day as Ginza and Yurakucho are just walking distance apart. 【設施名稱】いしかわ百万石物語 江戸本店 【地址】東京都中央区銀座2-2-18 TH銀座ビル 【電話號碼】0362287177
Souveniers from all over Japan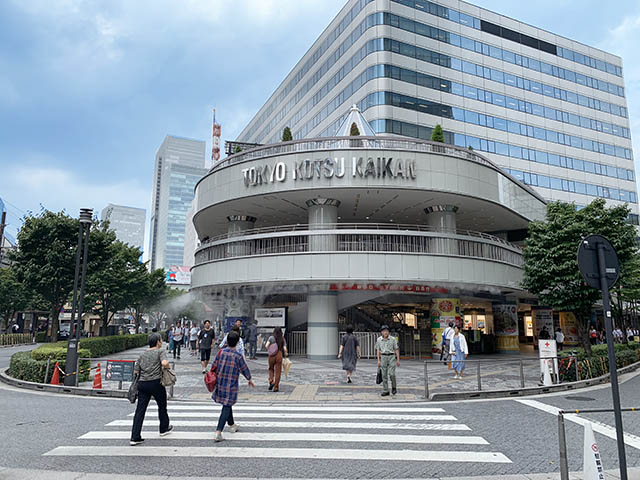 The long-established building located in front of Yurakucho Station, Tokyo Kotsu Kaikan is a spot that you may initially overlook but it's a must visit place as there are retail stores that sell local goods from all over Japan. 【設施名稱】東京交通会館 【地址】東京都千代田区有楽町2-10-1 【電話號碼】0332122931
Incense and Japanese paper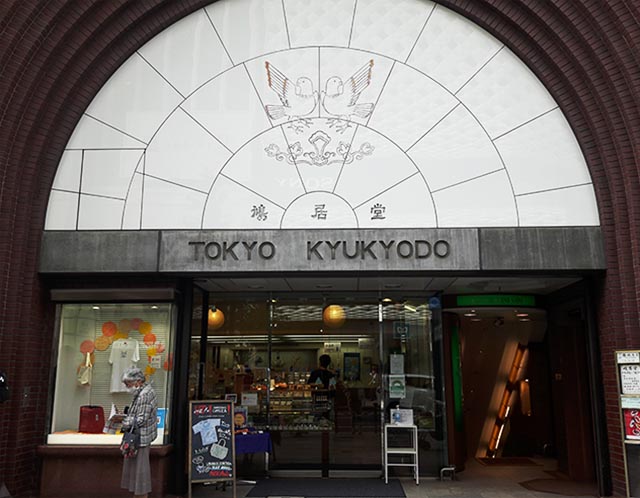 Kyukyodo has been making Japanese paper and incense for over 350 years, and Ginza is their flagship location. Inside you'll find colorful trinkets, cards, and notebooks perfect for gifts to bring back to friends and family. Designs on the items range from cute to traditional, and you'll likely lose track of time sifting through the bright merchandise. Plus, if you're looking for postcards or wrapping paper with Japanese flair, Kyukyodo is the place. 【設施名稱】東京鳩居堂 銀座本店 【地址】東京都中央区銀座5-7-4 【電話號碼】0335714429
Senjafuda strap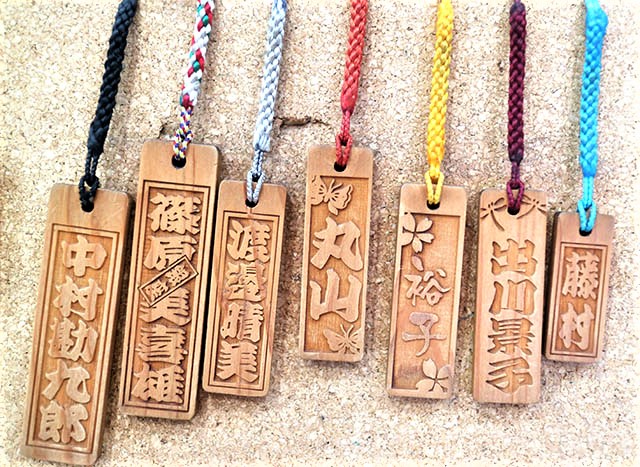 If you are looking for trendy Japanese-style souvenirs, head over to
Stockplus
which is one of the most popular souvenir shops in Tokyo and is located across from Ginza Kabukiza Theatre. It's a one-minute walk from Higashi-ginza Station. Here they make senjafuda straps, which were originally developed in the Edo period and are said to bring good luck to those visiting shrines. At Stockplus you can get an original senjafuda strap made with your name in Japanese characters. You can choose from different sizes and styles. Senjafuda straps are the perfect customized momento to get for yourself, and they also make the perfect gift for friends. You can get yours made in as little as 15 minutes at Stockplus.
Hakuhinkan Toy Park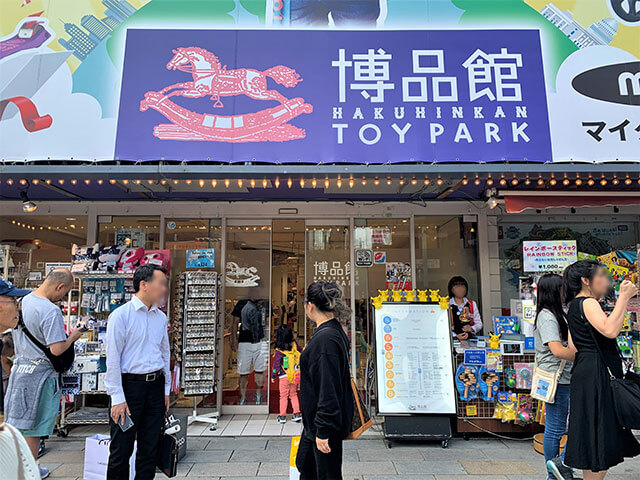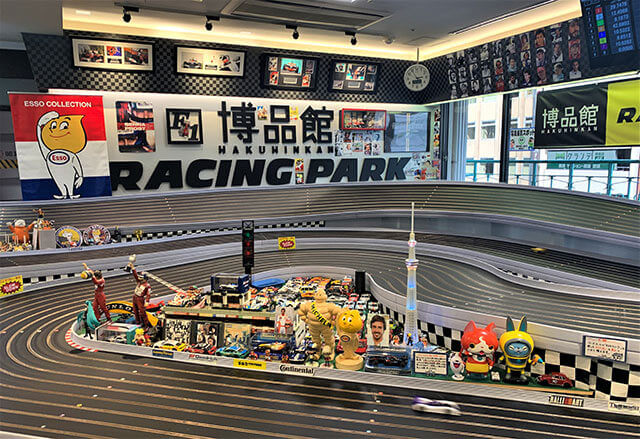 At
Hakuhinkan Toy Park
, there are Japan-limited toys, exciting souvenirs and other unusual items, but all dedicated to toys only. Inside the store, there are about 200,000 items of toys, stuffed toys, games, figures, Japanese goods, character goods of Japanese origin, etc creating a magical wonderland for the little ones.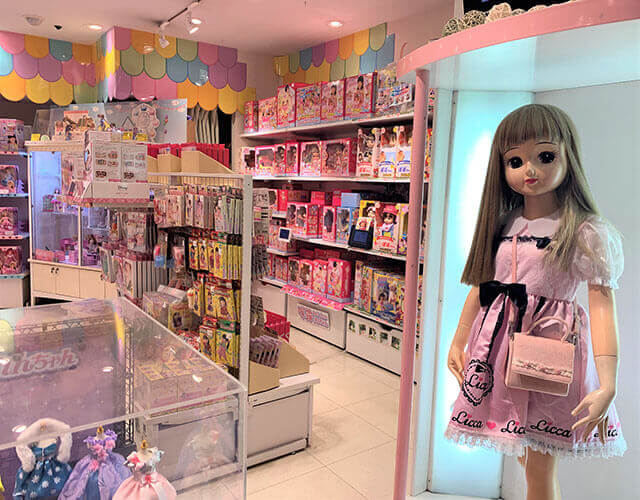 【設施名稱】博品館TOY PARK 銀座本店 【地址】東京都中央区銀座8-8-11 【電話號碼】0335718008
IMANO TOKYO GINZA HOSTEL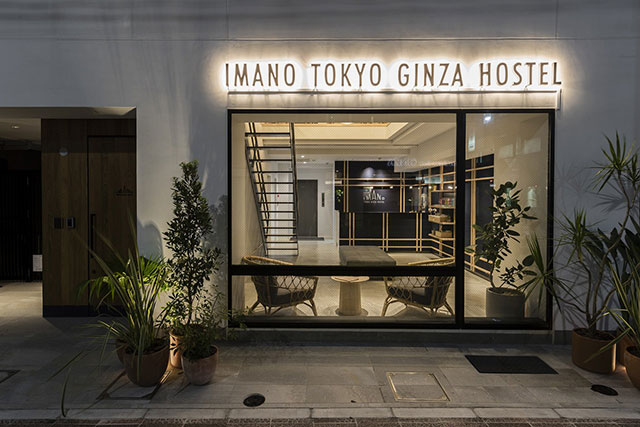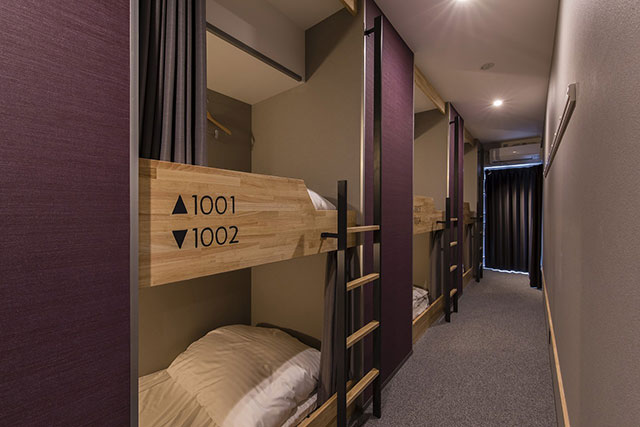 Set among the luxurious hotels of Ginza lies the reasonably priced
Imano Tokyo Ginza Hostel
. Providing easy access to Ginza, Tsukiji and Asakusa, Imano is a stylish hostel popular with tourists. The sturdy bunks offer privacy curtains, reading lights, and power outlets, so you can rest easy. On the second floor there's an airy cafe/bar that's also open to the public, so drop by if you want a low-key place to catch your breath. 【設施名稱】IMANO TOKYO GINZA HOSTEL 【地址】東京都中央区新富1-5-10 【電話號碼】0351172131
Tsuki Hotel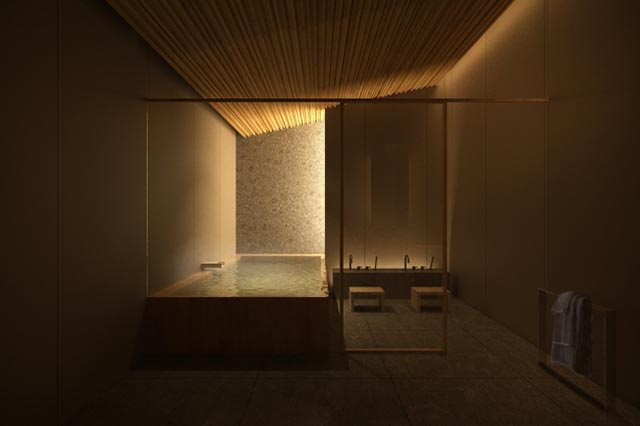 Tsuki is a boutique hotel that provides travel opportunities through which guests can experience both traditional and contemporary Japanese culture and spirit during their stay. The room is equipped with Japanese bath and the hotel has a sake bar for visitors to taste the exclusively selected sake gathered from all around Japan.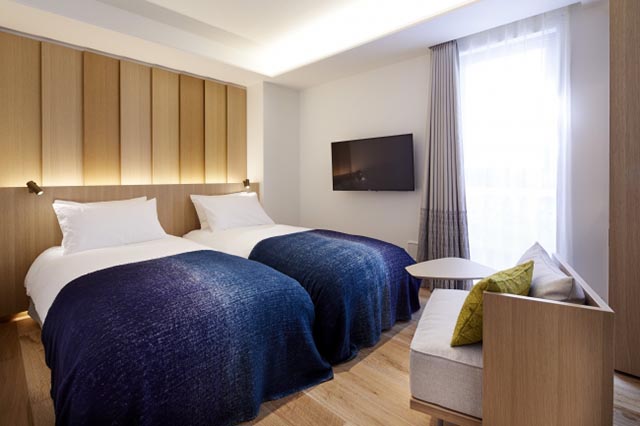 【設施名稱】TSUKI 【地址】東京都中央区築地1-9-4 【電話號碼】0364356288
*This article was provided by one of our partners, and its publication date refers to the day it was released on WOW! JAPAN. Please refer to the applicable partner site to confirm the date of original publication.
Follow WOW! JAPAN

Can't find it in a guidebook? Looking through this app will definitely make you want to go to Japan.
Sightseeing information to make you say "Wow!", updated every day!